The 6 Pillars of Successful Presentations are taught as a three hour, full-day, or multi-day interactive workshops. The training will be customized to your business, your culture, and your specific needs.
What to expect during your workshop:

Learn powerful, yet simple techniques to inspire and engage your audience.

Achieve clarity of purpose by responding to illuminating questions.


Polish Body Language skills. 

Discover vocal variety.

Acquire yogic eye-power techniques

Assimilate effective breathing techniques to sustain presence of mind in front of your audience under any circumstances.

Become aware of remarkable stress-dissolving exercises you can use anytime to restore your energy.

Practice successfully addressing Q&As.
Be it on the stage, leading a webinar, on camera, or in the conference room, your team members will be prepared to make a contribution by clearly articulating their ideas in a charismatic, clear and concise way.
Some of the benefits that you can expect to take away are:
Appear self-assured, accomplished and credible in front of any audience.

Read your audience to speak to their needs and learning styles.


Use your eyes to connect with and engage your viewers.

Organize your information for best flow and greatest impact.

Eliminate "ums," "ahs," and other bothersome habits.

Structure and convey your message in a compelling, concise and clear way.

Embody charismatic body language techniques that elicit trust in your audience.

Use the Power of Contrast to capture and maintain the interest of your listeners

Master Q&A sessions and win-over difficult audiences.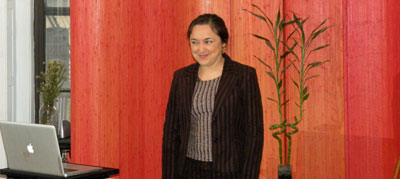 Special emphasis is placed on building team cohesion in a safe, encouraging environment, where every team member feels supported and secure enough to overcome stage fright and to practice their presentation skills, while actually having fun!
We start with a FREE consultation to identify your needs and determine what tangible, specific results you would like to achieve. What would you like to accomplish to feel fully satisfied at the end of the workshop?
Click here to book your free consultation