Learning Design | Educational Technology  
Puela Lunaris offers one-on-one consultations to develop, implement, and evaluate curriculum and engaging multimedia assets for your blended/online courses, presentations, audio programs, video productions, social media promotions, and specialized instructional initiatives.
Take a look at her portfolio to discover how you can benefit from her work
Presentation Skills
Developed by Puela Lunaris, The 6 Pillars of Successful Presentations™ system combines a wealth of practical techniques from the Performing Arts, Yoga and Neuro-Linguistic Programing for you to be confident, calm and charismatic during public speaking in any environment, be it the stage, the camera, a webinar, or the conference room.
Specializing in the entertainment/media, technology and education industries, Puela coaches entrepreneurs, CEOs, CMOs, authors, scientists, technology innovators, professors, internet marketers, entertainment lawyers, celebrities and thought leaders.
You too can learn to communicate your message in a charismatic way, while enjoying yourself during your presentations, by practicing The 6 Pillars of Successful Presentations™. Quick results guaranteed.
Feel self-assured and relaxed when you are engaged in public speaking.
Be a captivating, articulate and inspiring speaker.
Enhance your magnetism so you will cause a memorable impression upon your audience.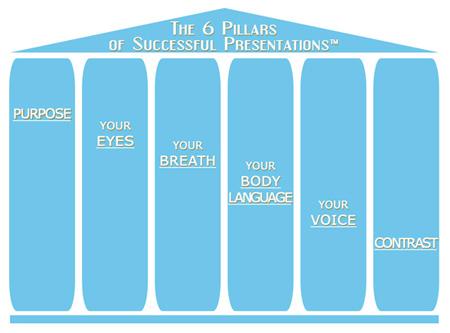 This is what you can expect from The 6 Pillars of Successful Presentations™:
The Power of Purpose: To achieve tangible results.

The Power of Your Eyes: To engage your viewers.

The Power of Your Breath: To stay calm and confident.

The Power of Your Body Language: To inspire your audience.

The Power of Your Voice: To effectively convey your message.

The Power of Contrast: To sustain the interest of your listeners.
Instructional design and multimedia presentations production services available.

 Corporate Workshops and Team Trainings offered in Manhattan and around the world (They can be conducted in English or Spanish). Click here to learn more.
One-on-One sessions done in Person, over Skype, or on the Phone. Click here for details.

You may also inquire by phone 1-212-675-9485 (office hours 10am-6pm EST) or use this contact form anytime.